Wintercamp 2021 Recipes
Giant KitKat
Ingredients
Baking tin/ Tupperware pot/ grease proof paper
400g Milk Chocolate
Wafers
Chocolate spread
Line your baking tin with greaseproof paper
Melt your chocolate – the best way to do this is to boil water in a pan and place a Pyrex bowl on top
Place your chocolate into the Pyrex bowl and melt it
Pour some or your melted chocolate into the lined loaf tin / Tupperware pot
Add your first layer of wafers – push the wafers into the melted chocolate making sure you leave a boarder of chocolate around the edge
Spread a little of your chocolate on your next wafer and place it on top of your first layer wafers – build your layers up like this until they are just below the top
Melt more chocolate like you did in step one and pour it into your lined tin, making sure the chocolate is down the sides and covers all the wafers
Put it in the fridge to set
Once fully set, remove from the fridge
Gently tip the pan upside down and slide your mega KitKat out of the pan
Now, enjoy eating your masterpiece!
---
Breakfast Ideas
Jam Sandwich Fritter Pancake Thingies
Ingredients
50g/2oz flour
1 free-range egg
100ml/3½fl oz milk
40ml/1½fl oz water
8 slices bread, buttered
3 tbsp jam
25g/1oz icing or caster sugar
butter & oil to fry
Method
Break the egg into the flour in a bowl and stir in the milk and water until a smooth batter is formed.
Spread the buttered slices of bread with raspberry jam, then sandwich two slices together, pressing down well. Repeat with the remaining slices of bread, then cut out squares into 4 squares
Melt the butter and oil in a frying pan over a medium heat.
Dip the sandwich shapes into the batter, then add to the pan to fry for 2-3 minutes each side, or until golden-brown all over.
To serve, place onto a large serving plate and sprinkle with sugar.
---
---
Lunch Ideas
Cheat's tuna & sweetcorn pancakes
Serves 4+
Ingredients
bunch spring onion
50g butter
50g plain flour
1 tsp English mustard
425ml milk
326g can sweetcorn , drained
2 x 185g cans tuna in sunflower oil, drained
8 regular-sized flour tortillas
125g mature cheddar , grated
Method
STEP 1 Heat oven to 200C/180C fan/gas 6. Cut the white ends from the spring onions and slice them in half lengthways. Finely chop the green tops. Tip the butter, flour, mustard and milk into a non-stick pan with seasoning, and whisk over the heat until the mixture thickens to make a sauce. Add the whites of the onion and cook for a few mins, stirring until they start to soften. Stir in the sweetcorn and tuna.
STEP 2 Heat the tortillas following pack instructions. Divide the mixture between the tortillas and roll up like pancakes. Arrange the pancakes in a large, buttered ovenproof dish as you roll them. Mix the cheese with the onion tops, sprinkle over the pancakes and bake for 25 mins until bubbling hot.
---
Quick beany enchiladas
Serves 2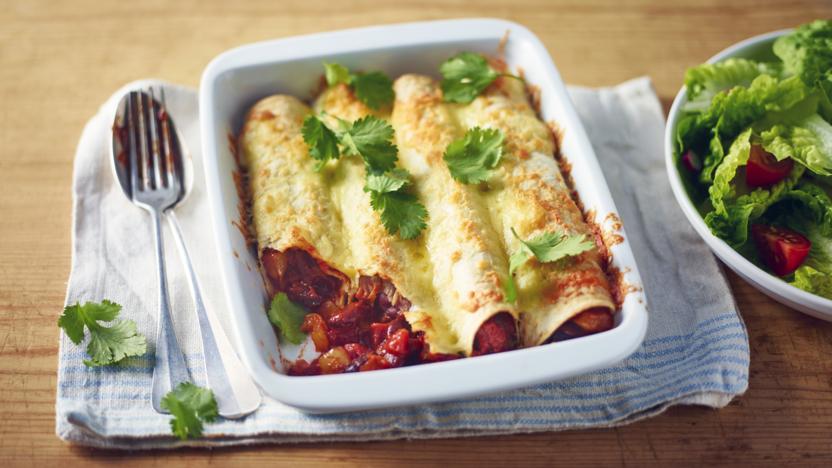 Ingredients
1 tbsp sunflower oil, plus extra for greasing
100g/3½oz frozen chopped onion (or 1 medium onion, peeled and roughly chopped)
100g/3½oz mixed frozen peppers (or 1 yellow pepper, de-seeded and sliced)
1 x 400g tin chopped tomatoes
1 x 400g tin red kidney beans in chilli sauce
1 tbsp freshly squeezed lime or lemon juice
3 heaped tbsp chopped fresh coriander, plus extra to garnish
4 x 40g/1½oz ready-made flour tortillas
75g/2½oz mature cheddar, coarsely grated
salt and freshly ground black pepper
Method
Heat the oil in a large non-stick frying pan over a medium heat. Add the onion and peppers and fry for 3–4 minutes, or until softened and beginning to turn golden-brown. Stir in the chopped tomatoes and kidney beans.
Bring the mixture to the boil, then reduce the heat until the mixture is simmering. Simmer gently for 10 minutes, or until the sauce is thick and glossy.
Remove the pan from the heat, then stir in the lime juice (or lemon juice) and coriander. Season, to taste, with salt and plenty of freshly ground black pepper.
Preheat the oven to 200C/180C Fan/Gas 6.
Brush the insides of a shallow ovenproof dish all over with a little oil. Place one of the flour tortillas in the dish and spoon one-quarter of the bean mixture into the centre. Roll up the tortilla and push it to one side of the dish. Repeat the process with the remaining flour tortillas and bean mixture, lining the rolled tortillas up against each other.
Sprinkle the enchiladas with the grated cheese and bake in the oven for 20 minutes, or until the cheese has melted and turned golden-brown. Just before serving, garnish the enchiladas with fresh coriander.
To serve, divide the enchiladas equally among the serving plates. Serve with a mixed green salad.
---
Dinner Ideas
Cheat's Biriani
Serves 2
Ingredients
1 Onion, chopped
2 Garlic Cloves, crushed
2cm piece of Fresh Ginger, grated
2tbsp Curry Paste (Tikka works well)
80g Cauliflower, cut into small florets
1 Red Pepper, chopped
1 Carrot, chopped
100ml Vegetable Stock
250g Uncle Ben's Pilau or other pre-cooked rice packet
Small handful of Coriander, chopped
Instructions
Preheat the oven to 180C. Heat the oil in a frying pan over a medium heat. Add the onion and cook for 10 minutes until soft and translucent. Followed by the garlic, ginger and curry paste and cook for 2-3 minutes until the spices begin to release an aroma.
Add the corn, courgette and carrot and stir through to coat in the spice mix. Fry for 5 minutes.
Meanwhile, place the Uncle Ben's rice into a medium sized oven proof pan and layer the spinach on top. Add the curried vegetables and pour over the stock. Place the dish in the oven for 15 minutes until the top of the dish is beginning to go crispy.
Remove the dish from the oven and top with chopped coriander. Serve immediately making sure each dish gets a layer of rice, spinach and vegetables.
---
Amazing All-in-One Pasta!
Check out the video to see this unbelievably easy way of cooking pasta!
Serves 2
Put 200g spaghetti in a wide saucepan or deep frying pan off the heat.
Add 100g cherry tomatoes or 1/2 tin tomatoes, handful olives, 2 garlic cloves, sliced, a pinch of chilli flakes, zest of 1 lemon and season with salt and pepper.
Pour over 2 tbsp olive oil and 500ml boiling water.
Turn the heat on and simmer for 10-12 mins, tossing the spaghetti through the liquid every so often until it is cooked and the sauce is reduced and clinging to it. Add a splash more hot water if the sauce is too thick or does not cover the pasta while it cooks.
Once the pasta is tender squeeze over the juice 1 lemon, add a few basil leaves, pinch of chilli flakes and a handful grated Parmesan.
Serve with more shaved Parmesan and fresh basil if you like.
---
Serves 1
Ingredients
½ red onion, roughly diced
200g mixed beans (from a 400g can), drained
100g sweetcorn (from a 400g can), drained
200g chopped tomatoes (from a 400g can)
1tsp ground cumin
2tsp smoked paprika
40g plain flour, plus extra for dusting
25ml single cream or a blob of yoghurt
2tsp olive oil
Method
Preheat your oven to 190C/ 170C Fan, Gas 5.
Fry the onion in a pan in a splash of olive oil over a medium heat for a 2-3 mins until soft. Add the beans, sweetcorn, tomatoes, cumin, 1tsp of the paprika and some black pepper. Stir, then simmer for about 15 mins until the soup has thickened.
Meanwhile, make the tortilla chips. Mix the flour and 25ml water in a bowl, with a pinch of the paprika, to form a dough. Dust the worktop with flour, then knead the dough for a few mins until smooth. Roll out to 20cm square and lay it on a nonstick baking tray. Cut it into triangles (or any shape) and bake in the oven for about 10 mins until crispy.
Serve the soup in a bowl, drizzled with the cream or yoghurt. Serve the tortilla chips on the side, dusted with paprika (optional).
---
Snack Ideas
Trail Desk Mix!
Why not make yourself a jar of this energy and mood boosting mix to keep you going through the day!
You'll need a large glass jar and a plastic bag to store any spare.
Choose any mix from the list below – or come up with your own. Mix it all together in a large bowl then keep it in a jar on your desk for snack emergencies!
Chunky breakfast cereal – Shreddies or Crave for example
Any nuts – including salted or dry roasted peanuts
Seeds – sunflower and pumpkin
Chocolate chips, choc M&M type sweets
Dried fruit – any! But raisins and banana chips are a great start
Coconut flakes
Pretzel snacks
Yoghurt covered nuts or raisins
---
Frozen Banana Peanut Butter Bites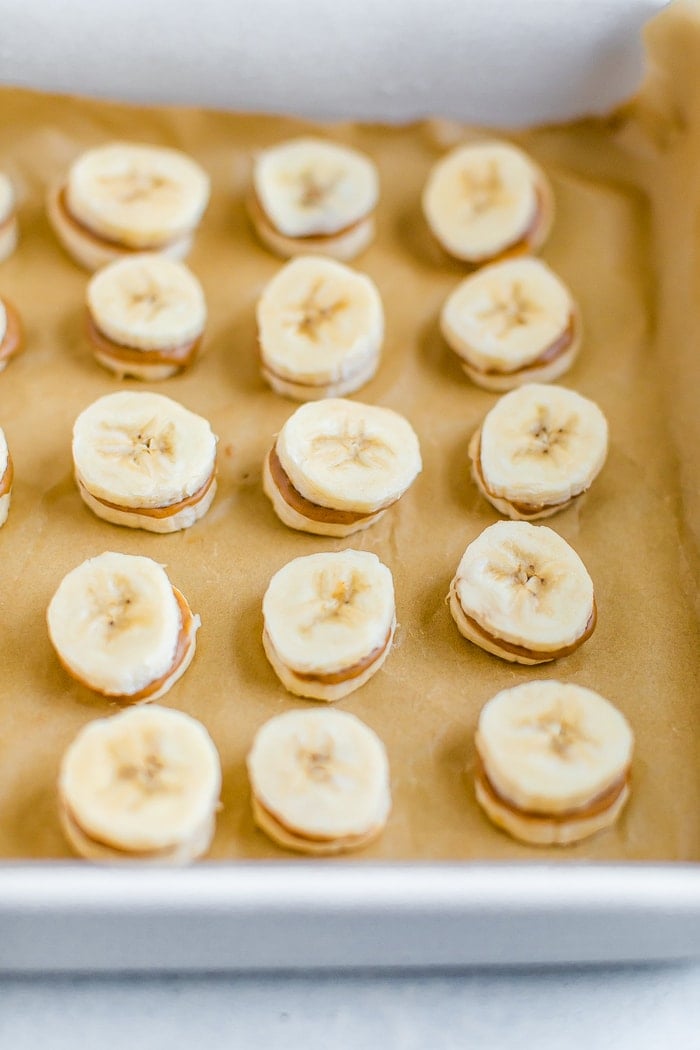 Try these delicious little bites for an energy boost! Slice a banana and make little peanut butter sandwiches with the slices. Freeze in a single layer on a piece of greaseproof paper. Store in a tub once they're frozen.